ELECTRICAL PERFORMANCE
1. High power current rating: Up to 50A/contact (30°C T-rise in still air)
2. Low power current rating: Up to 25A/contact (30°C T-rise in still air)
3. Operating Voltage
• High power contacts: 912V max. (fully loaded)
• Low power/signal contacts: 124V max. (fully loaded)
• Dielectric withstanding voltage
• High power contacts: 2500V
• Low power/signal contacts: 1000V
4. Insulation resistance
• High/low power contacts: > 2,000MΩ initially as well as after environmental exposure
• Signal contacts: > 500MΩ initially as well as after environmental exposure
5. Contact resistance
• High power contacts: ≤0.7mΩ initially and after environmental exposure
• Low power contacts: ≤1.5mΩ initially and after environmental exposure
• Signal contacts: ≤20mΩ initially and after environmental exposure
Environmental
Operating Temperature: -45°C to +105°C
Hot Tags: board to board connector,power connector,round connector
Tags: About MEDLON, more connector products
Workingh Environment

Operating Temperature:-40℃~+125℃(Include 40℃ temperature rising)
Relative Humidity:40℃时,95%
Vibration: 20~500Hz, 490m/s²
Shock: Acceleration 490m/s²

Electri Performance
Contact Specification

Contact Resistance

(mΩ)

Rated Current

(A)

Voltage Rating

(V)

Withstand Voltage

lnsulation Resistance

500VDC/1Min

500VDC/1Min

Signal contacts

(2.54mm pitch)

Signal contact

(2.54mm Pitch)

≤20mΩ

Below 25 pcs,2.5A/pin

50V

1000V

≥2000MΩ

25-48 pcs,15A/pin

Over 48pcs,1A/pin

Power contacts

(5.08mm Pitch)

≤2mΩ

40A

60V

1000V

≥2000MΩ

Power contact

(6.35mm Pitch)

250V

2500V

Power contact

(7.62mm Pitch)

300V

2500V

Power contact

(9.525mm Pitch)

300V

2500V

Technical Performance
| | | | |
| --- | --- | --- | --- |
| Contact Type | Contact stability | Single contact insertion force | Single contact withdrawforce |
| Signal contact | ≥10N | ≤1N | ≥0.2N |
| Power contact | ≥30N | ≤5N | ≥2.2N |
Mechanical Life :250 times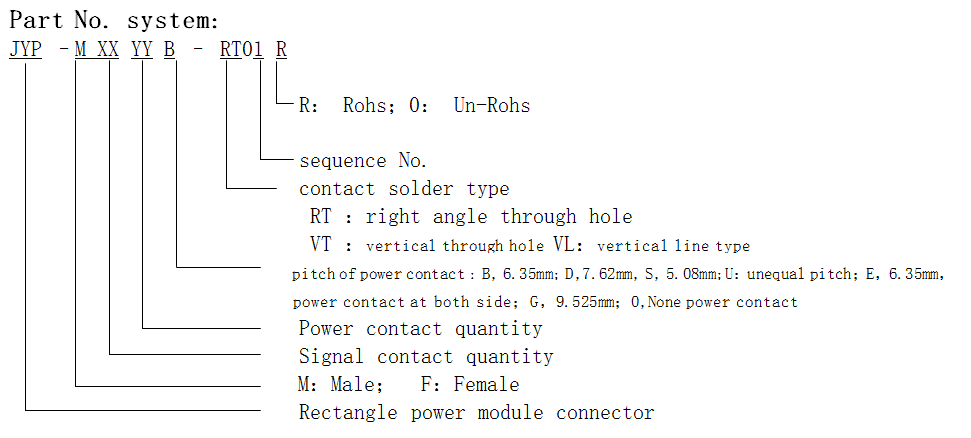 High Power Connector 65A
32 Signal + 14 Power Blade Style Contact
Offers solutions for power supplies and host-to-card interface.
Also provide customized power distribution solutions to integrate connector, PCB and bus bar technologies.
* Keyed to eliminate misalignment
* Open blade design for greater heat dissipation
* Can be used for both AC and DC power
* 65A per power contact 2.5A per Signal pin
* Left & right guides for 4 direction blind mating
* DC Power 6.35mm and 5.08mm pitch, AC Power 7.62mm Pitch
* Very low power contact resistance 0.70mΩ to minimize heat
* Single blade with multiple points of contact for stable and secure mating
* Combine power & signal to increase flexibility and versatility in use for
 customers's designs.